In a world of seemingly unlimited choice it can be totally overwhelming to know how to find exactly what you're looking for—including a photographer. What are the qualities of a good wedding photographer, and how can you find someone who is perfect for you?
Well, one thing that Stam and I get asked a lot is, "How do you know whether a photographer is actually really good at what they do?" So, we decided to put together five questions that are super important to ask your prospective photographer before you decide to hire him or her.
These five tips are things that we've learned along the way, and it'll guide you through the process of finding the right photographer for you.
How many weddings do you do per year?
So many people are influenced by the price of a photographer, but if there's one thing that you should actually be focusing on, is value. You really don't want to compromise the quality of your photographs!
With that, you'll easily find photographers who do 100 or more weddings a year, and this is typically not a good sign.
Imagine booking a photographer who has just done three weddings in a row before yours… there's just no way that they'll be able to put in as much attention to detail as a photographer who has been preparing for your big day all week.
For that reason, the best photographers generally do around 20 weddings per year, They then place all of their attention and energy on their clients and are able to push their creative boundaries for every couple they work with.
Do you work alone or with a second photographer?
We cannot stress how important this question is!
If the person you're looking at for your wedding photography works alone, it means that they won't be able to cover all aspects of your day. For example, the chances of your partner getting ready in a different place to you is very high.
You want a photography duo or team that are able to capture both of you.
Also, during the ceremony and reception, there are so many different things going on and you want your photographer to be able to capture all of it.
So when you have two photographers, one will generally focus on the more formal photos of the newly weds during the golden hour, whilst the other catches those lovely candid moments during cocktail hour and so on.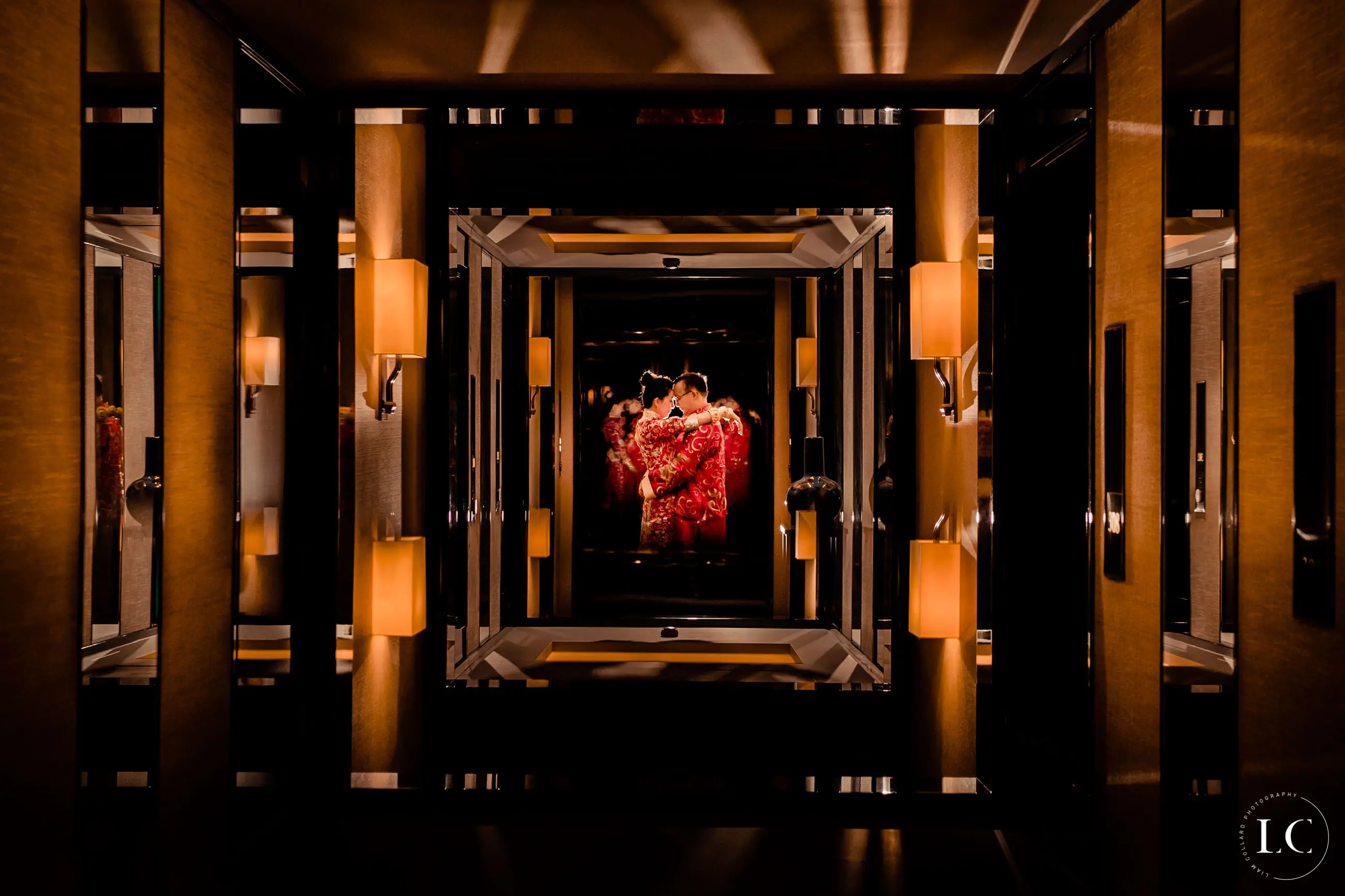 What happens if it rains on our wedding day?
This is a good question to ask, as it will separate the experienced photographers from the newbies.
An experienced photographer is easily adaptable, able to capture some incredible images in the rain. They use light creatively and offer interesting solutions for any expected or unexpected weather conditions.
So, we highly recommend asking your possible photographer this question to judge whether they'd be the right fit for you.
Can we see your portfolio from the after dark parts of the wedding day?
Most couples don't even think about asking this question as it doesn't even enter their minds, but it's actually quite an important one to ask.
Can your chosen photographer capture great photos after the sun has set? A lot of fun and activities take place at the reception party, so can he or she demonstrate a beautiful nighttime portfolio from a recent event?
Using off-camera lighting to create beautiful and artistic images at night is a real art, and the best photographers love doing it!
But there can definitely be a struggle when the natural light fades, which is why you should probably ask your possible photographer about their skills, as it really separates the 'good' from the 'great'.
How do you interact with us on our big day?
Picking a photographer that you like is as important as their portfolio. You will spend a lot of time with them on your wedding day, more than any other supplier, so you want to feel comfortable that they are compatible with you as a couple.
And if you like the idea of being able to talk with, and create a good working relationship with your wedding photographer, choose one that is more people-centered and extroverted.
Also keep in mind the style of your wedding and the kinds of guests that you are inviting. You do not want a shy photographer if you have a young and or rowdy crowd, and you probably don't want an extroverted and eclectic photographer if you are having a quiet and intimate wedding.
And there you have it, five questions that are super important to ask your chosen wedding photographer before you hire them! Hopefully these tips and trick have helped you to decipher the qualities of a good wedding photographer.
And if you have any questions about wedding photography or about the things we have discussed above, please
get in touch
with us over email at 
[email protected]

. 
We love hearing from couples in love!